When boss asks you for the ROI of your latest social media campaign and want a detailed report cointaining social media metrics , how do you respond?
Too many social media managers fall back on the easy answers: we gained this many new Twitter followers, this many Retweets, this many Facebook shares, and so on.
I usually hear these from CMOs or CEOs who became faded up and come to me eather teach their social media managers or ask for consultation.
Though it's really very good sign for me (I get clients for their mistakes) but I really feel that I should give somthing back to the community as well.
Thus, I'm writting this article to help my fellow comunity members who don't know those social media metrics that really matters for their company or brands.
Even Startups or Solopreneurs can use them as well to herness the power of social media in a data driven way.
Oh yes! another one thing to say, Just because you and I find value on a Social Network does not imply automatically that a business should be on it.
Let's begin.
Sure,  social media metrics like above, usually replied by (some) Social media managers, offer surface insights into how a campaign or piece of content performed, but they don't really show executives how your efforts are helping boost the bottom line.
It's time to step things up a bit so that your social media analytics better reflect how all your hard work is paying off.
Here's a list of social media metrics you may already be tracking and how to take them to the next level.
#1

. Don't just track link clicks, track click-through with bounce rate
If you share original contents on social media, you're probably already tracking how many people click-through to that content.
Click-through rates are important as a metric, since they indicate that your social media messaging is compelling enough to spark interest with your audience.
But these clicks become a far more telling metric, at least in terms of ROI, when paired with your bounce rate.
What is Bounce Rate?

Bounce rate refers to the percentage of page visitors who leave your website after only viewing one page.
In the case of social media, it's like someone clicking on a link you post to Twitter or Facebook or any other social media platformsand, arriving on your website or blog, then leaving without viewing any other content you have in there.
Ideally, You want people to stay on your sites forever or until they convert (whichever comes first).
Well,we all who are in thefield of Digital Marketing Knows, Bounce rate is an important metric to track for our web properties, in general.
It allows you to powerfully illustrate your social ROI by comparing it to your other sources of web traffic.
Step 1:
Track the bounce rate of website visitors who came from social networks, and compare that rate to website visitors who visited your site directly, arrived from Google, or arrived from any paid advertising campaigns.
Step 2:
If your social media bounce rate is lower than those other sources, you can show your boss that you're targeting the right people on social media, and the traffic you're driving is more valuable to the business.
Now, How to Track this?
To track this metric, you need to be set up on Google Analytics or another analytics provider.
#1. In the case of Google Analytics, you'll want to go to the "Acquisition" tab, and look under "All Traffic" for the "Channels" segment. Click on the "Bounce Rate" button and it should rank all of the channels from lowest bounce rate to highest.
In the example below, you'd be able to show your boss that social media is less effective than search and email, but more effective than search ads, display ads, and direct traffic to your website.
That kind of insight should go a long way as you try to prove the value of social media to your business.
If search has a bounce rate that's twice as high as social media, but drives 20 times the traffic, social is still going to look less valuable in comparison.
That's why social media managers need to track more than just the amount of traffic driven, and start tracking the share of traffic driven by social.
Doing this, once again, puts social up against other marketing channels like search or display ads, in order to determine the real value for your business.
If you have 100,000 website visitors this month, saying social drove 25,000 website visits might not be as powerful as saying that social drove 25 percent of website traffic this month, second only to search and well ahead of any other channel.
Now, How to Track this?
Tracking share of traffic driven can be done in the same place as your bounce rate.
Step 1:
Within Google Analytics, under Acquisition and Channels, click on the "Sessions" field. This will rank all of the channels based on the number of sessions they drive.
Step 2:
In the column, beside the actual number, you should also be able to see a small percentage figure. This percentage represents the share of traffic being driven by each channel.
It's that easy.
Mentions are important because they indicate how much people are actually talking to and about your business on social channels.
But this metric becomes a lot more valuable when you use it to show how you stack up against your competitors by tracking your social share of voice.
So What to do?
Put, your social share of voice details what percentage of mentions within the industry are about your brand and what percentage are about the competition.
Benifite:
This allows you to show your boss two important things:
# – All of your competitors are also on social media
# –  You're doing it better than they are.
Through this one metric, you can eliminate doubts about whether it's worth being on social media.
Show your boss,  just how well your social efforts are being received.
Tracked over time, social share of voice can be a powerful illustration of your social campaigns paying off, as you surpass competitors and become a leader in your industry.
Now, How to track this?
Step 1 :
Calculate all the mentions of your brand, as well as those of your competitors.
Step 2:
Add all those mentions value to get the total number of industry mentions.
Step 3:
Show the number of mentions your brand received as a percentage of that total,
just divide your mentions by the total, and multiply that number by 100.
Yea, Simple elementary math.
You can use Tools like Hootsuit Analytics to measure this and get more insights accross all social platforms.
#4.

Don't just track comments, track conversation rate (CR)
Many social media analytics reports cover how many comments were left on each post you have published.
But this is somewhat useless information without any context.
I'm telling you why?
Getting an average of 20 comments per post is a lot more impressive if you only have 200 followers, after all.
A better way to report on this metric is by calculating your conversation rate, a metric coined by Avinash Kaushik, author and digital marketing evangelist at Google.
In this little example of General Electrics (GE)  has more than a million Page likes on their platform but the engagement is so little thus  The CoR (Conversion Rate) is as low as 0.001% [(No. of Comments / no. of Total Followers or Page likes) x 100].
So, here thae questions are What business value, brand or performance, was delivered?
You can do this for one of your social networks in particular, or all of them.
This helps you determine how much of your audience is compelled to add their voice to the content you post on social.
Now, How to track this?
Step 1:
Pull the number of comments you received during your specific reporting period on your specific platform.
Step 2:
Divide that number by your total number of followers (or Page Likes).
Step 3:
Multiple that number by 100 to get your conversation rate as a percentage.
Kaushik offers a similar metric when it comes to tracking shares.
Instead of only tracking the number of times your content is shared on social, your amplification rate measures the ratio of shares per post to the number of overall followers (or Page Likes).
Lets, see another example.
Republic Tv , a very new and well known independent news media brand has gained nearly 300K folowers on tweeter as you can see on the above screenshot.
They had gained those followers within 3 Months of active operation. They had managed this much pre-launched hype due to it's owner and editor-in-chief Arnab Gowsami(#NationWantsToKnow), an influncial news media anchor and debater.
See it's tweets, they are with good copy, consize and to the point.
But if you see the AmR (Amplification Rate), it is almost point zero zero something percent on above posts. even the poll.
Well, I know it's very easy to speak or give advice from outside (Social Media Manager of RepublicTv must be saying after reading this article) but we need to remember and practice gets it's perfection through correcting the mistakes and refining them.
In the case of Republic Tv, they are posting their news in a consized way as they even do on their Website, on their TV Shows. So what Unique values users are getting from them than other or even from other competitors.
Thus to use the social platform effectively they need to engage with viewers now as a B2C News Platform but as a person providing some kind of values dipped inside their news.
Now, comming to the point of AmR (Amplyfication Rate) tracking techniques.
So, How to track this?
Step 1:
Take the number of times your content was shared (or Retweeted, or repinned, or regrammed—or all of the above).
Step 2:
divide that number by your total number of followers (or Page Likes).
Step 3:
Multiple that number by 100 to get your amplification rate as a percentage.
#6.

Don't just track likes, track applause rate (ApR)
Likes are also valuable social media currency, but not when they're being reported as a stand-alone metric.
Track your applause rate (ApR) instead, the ratio of likes per post to the number of overall followers (or Page Likes) you have.
What is Applause Rate (ApR)?

Applause Rate (ApR) is the ratio of favorites (or post likes or +1s or hearts etc.) per post to overall Followers (or Page Likes). Do I think the content you've posted is interesting, even if I won't bless it with my stamp and forward it on?
Again, this will provide the context needed to make likes more than just a vanity metric.
Your applause rate will let you know exactly how much of your audience is finding your content interesting or not.
Lets, elaborate the matter with an example,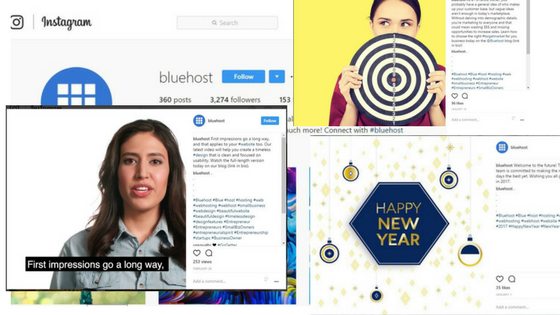 Here is the instagram page of the renowned hosting company, Bluehost.
They might had thought that as every B2B Competitors are using Instagram to promote themself they should too. Ok, Thats fair, being a company of that size they afford to think like that. I appreciate it.
Now lets take a look at their followers, it's 3274 (While I'm writting this article) & posts they have updated is 360 (They might have landed late on instagram).
After watching their all posts, the average Applauses (Likes or Heart) they have got are nearly 90-100 on each post.
So while trying to get the Applause rate its nearly 0.030%.
That clearly means the brand is failing to capture the eyes of its' audiences, thus failing to get the social traction it deserves.
Now, getting back to the pattern of this article.
So, How to track this:
Step 1:
Add up the total number of likes your posts received during your reporting period.
Step 2:
Divide that number by the overall number of followers (or Page Likes).
Step 3:
Multiple that number by 100 to get your applause rate as a percentage.
#7.

Don't just track numbers, track leads
Leads generated by social are one of the most important metrics you can track, since they can be directly connected to revenue.
If you're trying to prove social media's value to your business, continiously deliver a fresh source of warm leads is a surefire way to turn the right heads.
• Sharing graded content
• Using  Cmpaign Management Tools to run a contest with a form fill entry.
• Hosting social media events that require registration, like broadcasted Google Hangouts or Webnier Jam.
• Using social media advertising to target prospects with free demos or free trials or giveaways.
You will find more ways according to your brand btter than me.
Now yours turn I know.
"Well well well, that is a pretty good advice you have given", You will say now, "but everybody track numbers and traffics. Why not us?"
The key to tracking leads is ensuring that the links you share are trackable within your marketing automation or analytics software, be it Google Analytics, Marketo, Salesforce, Hubspot or something else.
Remember, every link you share on social media should include a UTM code.
This code will follow anyone who clicks that link as they visit your website and become a lead, either right away or later on in their journey.
Doing this you will be able to attribute leads to individual social media messages or campaignsand been able to check those with right social media metrics.
I'll reply on this question as, You know and I know too, that enumerating trffic especially Social is important but it's important for your own applause than the value your company needs as ROI.
I use Google Analytics. I know you use too.
Lets try out this option with how to search social media metrics for tracking leads.
So, How to Track? 
Step 1:
To understand the traffic from your social media channels, go to Acquisition > All Traffic > Channel.
you can see that social media drove about 46,000 visits, which accounts for about 4 percent of the traffic.
Step 2:
Once you've got a conversion goal set up, to view reports, go to Acquisition > Social > Conversions within Google Analytics and ensure you select the conversion goal you're looking to measure.
Other analytics tools like KISSmetrics and Mixpanel can also tell you such information (and perhaps in greater detail).
PS: Some believes that impression is somthing that needed to be taken care of while analysing the social  media metrics. Just because if someone had not engaged with a post they atleast seen it. But what is point of viewing a post for nearly o.030 second and taking this phenomenon as an impact to social metric. Ok, if you believe on the abovementioned assertion then you should atleast prove them via controlled experiments.
Conclusion
Social Networks are still in their infancy.
It should be clear by now that chasing them purely because of large audience numbers on these networks is a failing strategy.
I hope the specific recommendations in this post will ensure that your valuable marketing dollars are being spent in the most valuable manner possible.
There are lots of tools to measure social media metrics but measuering the right one in a well strategic way is what matters for Social Media Managers to make their campaigns successful.
if you want to dig a little more chech out these articles:
Now, the ball is on your quote, Please share which social media metrics you are you are tracking now?
Please share your feedback, critique, stories, pain and success via the comment form below. Thank you.